Taken 4/8/07 – Cabo – last day of the honeymoon, i ran back to grab the camera, because you can't not snap a photo of this, when you see it!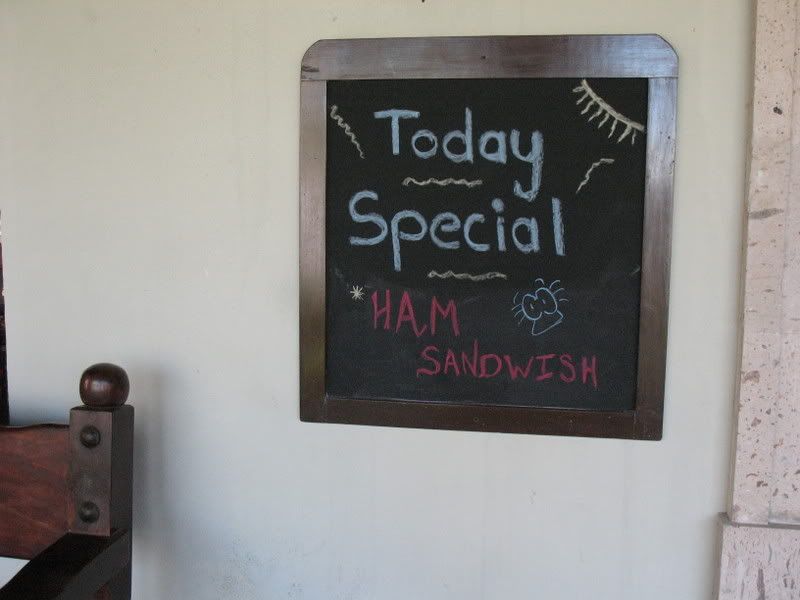 enjoy your day!
my cousin (2nd? 3rd? removed? not so sure, but cousin), Cynthia, did this on her blog (in which you all should bookmark and read often. she has a great grasp for the english language, while she is also trying to live and learn in spain! yea girl!)… so, here is my attempt:
16 random things about KTB:

1: i always have a song in my head. always. my friend, Brooke, calls it my "soundtrack"… it may be weird, but it's all i know.
2: i was a thumb sucker – for many years (not double-digits, but many) – so i have a personal vendetta against mothers that are constantly pulling their toddler's thumb out of their mouth and scolding them for it. i feel that's like rubbing a puppy's nose in its poop… you're not fixing the problem, you're only making it worse. thumb sucking, as with many other kid "quirks" is a coping mechanism, kids will deal with it and grow out of it as they need, and when they are ready.
3: i do NOT agree with extended breast feeding though- which was further proven to me after watching 20/20 recently (only watch this video at your own risk… i warned you)… i'm sorry, but when a kid can ask for it- the health benefits are sorely out weighed by the psychological ramifications you are now providing your young (or adolescent, in some cases, apparently) child.
4: i wish i was friends with the Gosselin family… last night i had a dream that Kate and I were running errands in their big van with the sextuplets.
5: i know i am odd. i have never claimed that to be untrue.
6: i have the same middle name (Jane) as my mom, my granny and granny's mom. Jane was the first name of Great-Grandma Mary Jane's mother.
7: i was devastated when i learned that Great-Great Grandma Namesake chose to go by the nickname "Jenny"
8: i hope that one day i will have a daughter that will carry on the family (middle) name.
9: i met my husband in a bar (yes ladies, it can happen!)
10: the night i met him, was the only time in my life where i seriously and honestly said, "i don't want to meet anyone, i am not even going to make an effort to meet someone" (because i used to say it, and secretly hoped that Prince Charming would be waiting…) and then there he was.
11: I knew AJ was the one for me when he said that he hated mushrooms, scary movies and skiing.
12: i taught myself to knit in the summer of 2002, using one set of size 7 needles, red-white-and-blue variegated yarn and a four-step how-to page torn out of a Better Homes & Gardens from the 1960s.
13: in the winter of 2008, i walked into my first official yarn shop and asked the woman why my YO's weren't working. In showing her what i was doing wrong, she told me i was knitting the wrong way.
14: i am so stubborn that i walked out of there and sulked for two weeks. then i seriously tried to fix it, and realized that the right way is much easier!
15: i am so stubborn that it took me three months to learn how to drive a manual transmission
16: i rarely use proper capitalization and overuse exclamation points. two style errors that are frowned upon by my former Journalism professors.
(when i got to #8, i thought it was going to be tough to come up with a whole 16… but now that i am done, i could keep going… but i probably shouldn't….. so… if i had any readers other than Cynthia, i would ask them to take on the task and do their own 16 things…)
Imagine it's 1988, you're a young girl in Denver, listening to the radio and you hear a song called "Please Don't Go Girl," and you think to yourself "who is this girl, singing with these boys, telling another girl not to go anywhere? Weird!"
Then, the hysteria unfolds, and before you know it, you (the 8-year-old girl you are pretending to be… remember?) are so wrapped up in it all, you are listening to the songs whenever you can, you are begging your mom for the latest copies of TEENBEAT and BOP! to get your hands on exclusive photos of these New Kids On The Block (and an occasional Chad Allen or Kirk Cameron… details).
You realize, that wasn't a girl singing, it was Joey McIntyre, and he's not the one with the highest voice in the group — when that Jordan Knight kicks into that falsetto, you melt… if only he didn't have that nasty two-foot-long braided rat-tail….And as time progresses, you decide that Jon (Jordan's older, yet quieter brother) is more your type, plus, you don't have to fight over him with all the other girls at school. And boy, do you spend every minute of recess talking about the boys, dancing like the boys, singing their songs and dreaming of that chance encounter you will one day have, when they will look in your eyes and say "Oh, OhOh, you're my Cover Girl…"… ahhh…
I never did get to go to a New Kids Concert in the 80′s. I was sad, but I sucked it up, and told myself that seeing the Jackson 5 Reunion Tour of '83 was a highlight and I am very lucky.
The we moved to Lincoln. I met new friends. I asked one, "So, do you like the New Kids?" oh-so prepared to spend the next two hours gushing over Danny, Donnie, Joey, Jordan and Jon… but her response was a brief and unintersted, "No."… and there ended my first boy-band love. Right there. Yes, Step By Step was released, and i listened along, but there was no dancing on the pink carpet of my bedroom. I carefully packed up my TEENBEATs and BOPs and eventually gave away my two beloved New Kids night shirts, red and teal, respectively.
Looking back, I realize that I tried to fill the void in my heart with the Backstreet Boys and *NSYNC… and that did work – especially finally going to the concerts and screaming along with the 14-year-olds (okay, i was almost 20, what's your point?)… never did I imagine that I might have the chance to see the New Kids back together again.
That is, until Tuesday, November 11, 2008 – Kansas City – Sprint Center… Oh, Baby, Oh! Add three friends, a trip to Wal-Mart for some 80′s inspired attire and you have a recipe for awesomeness!!!!!  The Boys were awesome. Floating somewhere around 40, they all danced, bopped and sang quite well. I was impressed. Moreso, was I impressed by the crowd. Not a child in sight – all the screams were from women (and some men) also there reliving some back-in-the-day dream! It was kind of cool!